Description
Standard Battery Pack

Includes 1 x 4 Cell ES Battery

2.25 Hours burn time on full power.


R4+ LED Tech Specs

Power output is 2000 lumens (measured 1500 lumens)

6 different power levels

Includes quick bayonet fitting handlebar mount, helmet mount and head harness and 1m extension cable

Backlit LED power button lets you know which power mode your using

ES Li-Ion battery pack with built in power gauge

Improved LED's

Weight 426g (R4+ Headlamp and 4 cell ES battery)
As with any product, specification is subject to change without prior notification. You are advised to confirm current specification before buying.
Extra Options for HOPE R4 + LED Vision Standard 1 x 4 cell ES Battery...
Add an Additional Battery
You can choose to add an additional Genuine Hope battery at a reduced rate at the time of purchase only...
1 x 2 Cell ES Battery RRP £70.00 Offer Price £56.00
1 x 4 Cell ES BAttery RRP £105.00 Offer Price £84.00
1 x 6 Cell ES Battery RRP £130.00 Offer Price £104.00
These are additional batteries to the battery already supplied with the light...
2 Cell 3200 mAh
Price: +£56.00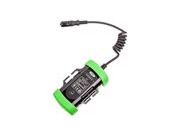 4 Cell 6400 mAh
Price:
+£84.00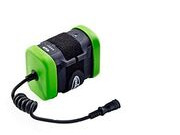 6 Cell 9600 mAh
Price:
+£104.00
Make any selections in the shopping cart.