Description
Key Features

Eight LED's generate a maximum power of 4000 lumens (3000 measured)

Custom optics blend 4 x spot, 2 x diffused and 2 x elliptical lenses

Two power sequences, each with three light levels allows users to maximise power or burntime

Visual indication of power levels via illuminated switch

Supplied with 6 cell ES (energy status) battery

R8+ LED Tech Specs

4000 lumens (3000 measured)

6 power levels

Quick release bayonet fitting handlebar mount

9600mAh ES Li-Ion battery pack with built in power gauge

1 hour burntime on full power

Eight Cree LED's

Integrated thermal throttling prevents overheating

Custom lens - four spot, two diffused and two elliptical beams

Weight - Lamp 180g, total system 690g
As with any product, specification is subject to change without prior notification. You are advised to confirm current specification before buying.
Extra Options for HOPE Vision R8 + LED Mountain Bike Front Light 4000 Lumen...
Add an Additional Battery
You can choose to add an additional Genuine Hope battery at a reduced rate at the time of purchase only...
1 x 2 Cell ES Battery RRP £70.00 Offer Price £56.00
1 x 4 Cell ES BAttery RRP £104.00 Offer Price £84.00
1 x 6 Cell ES Battery RRP £130.00 Offer Price £104.00
These are additional batteries to the battery already supplied with the light...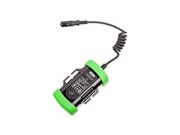 2 Cell 3200 mAh
Price:
+£56.00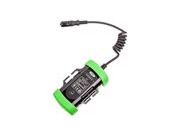 4 Cell 6400 mAh
Price:
+£84.00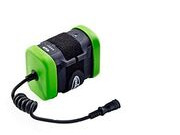 6 Cell 9600 mAh
Price:
+£104.00
Make any selections in the shopping cart.